Many don't DNA test for various reasons. Luckily, my relatives have been all in to help our family research. And because they understand the importance of testing, a huge brick wall—the one I least expected to break through—came tumbling down.
Gizella (Schwarz) Pracser
Gizella was born on 26 August 1871 in Sered, Slovakia, to Franciscus and Julianna (Jordan) Schwarz, the sixth of eight children. She married Joseph Pracser in 1892 and immigrated to Chicago in 1923. In the 1930 census, Gizella lived apart from her husband in Chicago and worked at a restaurant. This is all that I knew of my great grandmother—until this year.
Requests and searches for a death certificate, funeral record, and burial place came up empty until she appeared at Woodlawn Cemetery in Forest Park, Illinois. Last March, I went in search of her husband's and son's markers and discovered Gizella there, too. The cemetery found no current records but went back to older microfilm. Her headstone was dated 1936, but the marker was purchased in 1949 by her daughter, Bessie.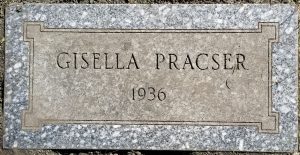 I now had Gizella's death year but still knew little about her Schwarz family. A female's family in Slovakia loomed as my most daunting brick wall. My grandmother (her daughter-in-law) knew Gizella's parents' names, death dates, and places. Unfortunately, my own research confirmed that only the names were correct. I needed to go beyond the limited on-line resources, so I turned to DNA.
DNA connects Slovakia to the U.S. and Australia
I found DNA matches on Ancestry (two predicted 4th-6th cousins), 23andMe (two predicted 3rd-4th cousins), and FamilyTreeDNA (one predicted 3rd-5th cousin). None matched cousins on my mother's side but did match my father's side, so I knew they were in my Slovak line—but where? I also knew they didn't match my Slovak grandmother's family, because second cousins living in Slovakia had graciously tested for me. That left only my Slovak grandfather's family. Based on our shared centimorgans (42-73), we were probably third cousins (3C) or third cousins once removed (3C1R), sharing great great grandparents—either Joseph Pracser's parents or Gizella Schwarz's parents.
I contacted my two Ancestry matches in June 2019 but got no response. When I tried again in October, one responded with an apology that he rarely checked the email associated with Ancestry and referred me to his sister, Yvonne Schwarz, the family genealogist. And that's when the brick wall fell. Yvonne and her brother are, in fact, my third cousins, and we share great great grandparents, Franciscus "Franz" Schwarz and Julianna Jordan, Gizella's parents from Sered, Slovakia. Yvonne's great grandfather, Edmund "Mundi" was Gizella's younger brother. Did I mention that Yvonne lives in Australia? Gizella and Joseph immigrated to the U.S. in 1923, and Yvonne's grandparents, Alexander and Jolan, immigrated to Australia in 1949. Our families, over 9700 miles away, connected through DNA, and Yvonne was incredibly generous with her knowledge.
What I learned from Yvonne: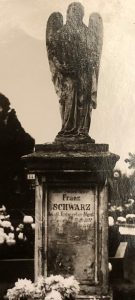 Franciscus "Franz" Schwarz was born in February 1821 in Waldhausen im Strudengau, Oberösterreich, Austria. His father may have run a saddlery business.
Franz established a small pileatore (hatter) shop in 1852 in Sered. His business quickly grew to three shopfronts, including a factory.
Julianna Jordan was born c. February 1832 in Bratislava, Slovakia; her father died just prior to her birth.
Franz and Julianna married on 2 November 1856.
Franz died on 7 March 1876 in Sered. Gizella was just four years old, and Yvonne's great grandfather, Mundi, was only one. Franz's large grave marker implies that he was a man of some importance.

On 16 August 1879, Julianna married Petrus Treisz who ran Franz's hat manufacturing company.
Julianna died on 27 December 1914 in Sered.
In 1922, Mundi's daughter, Edith, immigrated to the U.S. Her destination was "Cicero, Illinois, cousin Bukovsky at 2342 S. 58th Street," the home of Gizella's daughter.
In 1957, Mundi's son, Alexander, visited my relatives, Frank and Bessie (Pracser) Varchulik and Irma Bukowsky in Downers Grove, Illinois where they lived on a small farm.
Yvonne also shared the following records:

Franciscus Schwarz 1821 birth record
Franciscus Schwarz 1876 death certificate
Franciscus Schwarz 1876 cemetery marker photo
Julianna (Jordan) Schwarz Treisz 1914 death record
Various photos of family members and tools of the hatter's trade
But how would Yvonne and I translate the Slovak records? I contacted my dependable friend and genealogist, Peter Nagy in Slovakia, who promptly translated the original records and interpreted their meaning. He also found Julianna's second marriage record, confirming that Petrus was 20 years younger than Julianna! According to Peter, "Petrus was probably the assistant of the first husband. After his boss died, he married his widow and so became the workshop owner. It was quite common in that time."
More DNA family in California
Yvonne also shared information about Edith (Schwarz) Fiedorczyk, Mundi's daughter. After immigrating in 1922, she married and lived in the Chicago area where her daughter, Evelyn, also married. Checking DNA matches again, I contacted my two matches on 23andMe and the one on FamilyTreeDNA who all shared the same surname. A brother and sister responded and confirmed that the third person is their father. He is my 3C and the siblings are my 3C1R. They live in California and are descendants of Edith and Evelyn. Yvonne also shared Evelyn's 1940s wedding photo, taken with Frank and Bessie (Pracser) Varchulik, Gizella's daughter and son-in-law from Downers Grove. Our families were definitely connected.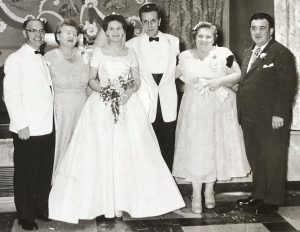 Because of DNA, someone in Pennsylvania connected with someone in Australia and someone in California. And DNA reconnected families in Australia and California–all with help from someone in Slovakia.