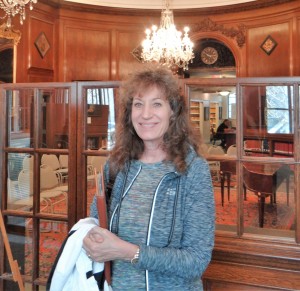 Pam Anderson, Certified Genealogist®, brings a wide range of talents and experiences to her business. After working as Director of Speech Pathology at Chambersburg Hospital, Pam changed direction and entered into the world of construction in 1991. Because of numerous genealogy and family history research requests from people outside Pennsylvania, she began another phase to fulfill a need in Franklin County. Combining two careers that depended on attention to detail and project management, Anderson CoGen was born. She is now solely dedicated to the genealogy aspect of her business and providing Collaborative Genealogy Services.
Active in the community, Pam sits on numerous boards and committees, offering direction and support to various organizations. Most recently, she has become a Certified Tourism Ambassador, to help clients better research their ancestors when they travel to Franklin County. Says Pam, "My personal goal is to guide every client through their project by remaining focused on their personal goals, resulting in a lasting relationship. Paying close attention to detail, continuous collaboration and communication, and being a knowledgeable resource is what makes Anderson CoGen work."
CG and Certified Genealogist are registered trademarks of the Board for Certification of Genealogists®, used under license by board certificants who meet competency standards.
Leadership Positions:
United Way of Franklin County President, 2013-2014
Women in Need Capital Campaign Honorary Co-Chair, 2010-2014
Cumberland Valley Animal Shelter Capital Campaign Co-Chair & Owner's Representative, 2008-2012
United Way of Franklin County Campaign Chair, 2011
Chambersburg Chamber Centennial Endowment Campaign Co-Chair, 2011
American Heart Association Mason Dixon 2010 Start! Heart Walk Chair, 2009-2010
Chambersburg Chamber of Commerce Chair, 2006-2007
Franklin County Builders Association President, 1999
Community Recognition:
"Leadership Franklin County Alumni of the Year Award", Leadership Franklin Co., 2012
"Volunteer of the Year", Chambersburg Chamber of Commerce, 2008
"Athena Award", Chambersburg Chamber of Commerce, 2005
"Builder of the Year", Franklin County Builders Association, 1998