Last week, I wrote of our "re-meeting" with my Praser family—my paternal side—in Chicago. After immigrating in 1920, my grandparents, Marie (Supenova) and Edward Pracser, welcomed Marie's brother in 1923. Stefan "Steve" Supena was the third child, and only son, of Stefan and Maria (Fuscikova) Supena. At the age of 16 and on his own, Steve emigrated from Slovakia to Chicago. In 1925, he met and married Elizabeth "Bessie" Trampota. Their son, Ronald, was born in 1933. Ron married Nancy Novy in 1956, and they had five children. Several years ago, I found Sheri, the wife of one of Ron and Nancy's sons, on FaceBook. Sheri has been the conduit to my Supena family.
Sheri put me in contact with her sister-in-law, Mary, who emailed me additional information on her family. It turns out that they lived within a half-hour drive of where I grew up—but I don't remember ever meeting them. Mary's family was surprised to learn that Steve's first cousins still live in Slovakia—but not as surprised as my Slovak family was to learn about Steve. Family lore in Slovakia was that "Steve went to the United States and was never heard from again." This all changed when my Slovak family gave me a photograph of Ron from his eighth grade graduation. Obviously, someone in Slovakia knew that Steve was alive, well, and married with a son. But that was 70 years ago!!
This year, I tasked myself with the job of being the link between east and west, Slovakia and the U.S., the Supenas, Hrnčiříks, and Prasers. And thanks to Sheri, we began the "linking" in March while on our trip to Chicago. Sheri arranged for dinner at their favorite local Italian restaurant in Elmhurst where they are regulars—Pazzi di Pizza. She must have known that Tom and I were looking forward to pizza in Chicago! The food was great, but as always, the best part was meeting new family. I will try again to introduce the Supena women that Tom and I met. And yes, he was the only male with five women—and he did just fine.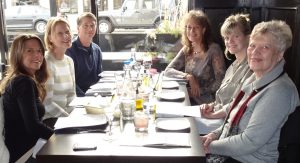 Sheri married into the Supena family. But like I've said, she was the conduit that brought us all together. She is so much a part of this family, it seemed like they were all sisters. Her husband, Paul, sells building supplies, so we could commiserate about the last down-turn in the economy and how it affected the building industry—and the catalyst that sent me to genealogy. Sheri and Paul are also huge Chicago sports fans. YAY! Sheri is very involved in the Alzheimer's Association, but her paying job is as an actor! She may just be an extra in television shows and movies filmed in Chicago, but someday . . . . And then the surprise came. The restaurant staff brought out a birthday cake?!? A total surprise for her sister-in-law, Ann—and me! Ann's birthday is four days before mine. How thoughtful was that!?!
Sherri's two sisters-in-law were also at dinner. Ann, of course. Yes, we almost share a birthday, but she is the youngest of her five siblings and nine years younger than me. But she was delightful. Having just returned from a trip to Florida, she accepted everyone's teasing about returning to frigid Chicago weather with a tan. Her sister, Mary, has shared a lot of information with me about their Supena family. She wrote two articles for the Medijugorje Magazine, both of which talk about her father. Because of her emails, I was able to piece together and fill in a considerable amount of information about my grandmother's brother, Steve, and her father, Ron.
The matriarch of this family is Nancy (Novy) Supena. Nancy is a charming woman who was married to Ron, Steve's son and my grandmother's nephew, for 59 years. Ron died in October 2015 but is remembered fondly. Mary said, "My dad was truly a gentle man, a very kind man, a man of faith, and a most loving husband, father and grandfather." Ron was my dad's first cousin, and a groomsman in my parents' wedding. Nancy and Ron met in high school. After their marriage in 1956, Ron joined the military—and the family moved a lot. They finally settled in Oak Brook with their five children where Ron ran a successful law practice for many years. Nancy summed up our dinner meeting with the best thing anyone could have said, "It feels like we've always known you."
Needless to say, I can't wait to see this family again, and hopefully meet Mary and Ann's brothers. They will all definitely be invited to our future Pracser-Supena reunion!