It happened again! We turned a conference into a mini family reunion – Twice!
Two weeks ago, I traveled with my husband, Tom, to Chicago for his 3-day conference. Originally from the Chicago area, Tom and I hadn't been back for a long time. And I hadn't seen my extended family for even longer. So I made the contact with my Praser family. My cousin, Ken, said the last time he saw me was at my wedding, which will be 40 years in May! I asked Ken to set up dinner with his family that still lived in "Chicagoland." As most people know, March in Chicago is cold and windy. But what greeted us Saturday night was anything but cold. Ken reserved a table for nine at an Italian restaurant in the city. The food was excellent, but the family was even better. I want to introduce all seven of them, keeping my fingers crossed that I have most of the facts correct!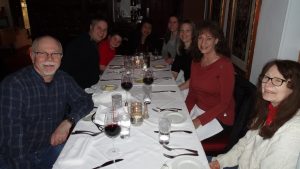 Ken and Julia are the leaders of the pack. Ken and I share paternal grandparents—our fathers were brothers. Like me, Ken has two brothers and two sisters. He's a little older than I am, so we were not close growing up, even though our families both lived in Naperville. At dinner, I learned that Ken works for JPMorgan Chase in downtown Chicago. He also plays guitar in a band and golfs. Interesting, because Tom golfs and just began playing guitar again—they had things in common! Oh, and we are all big Chicago sports fans!
Ken's wife, Julia, worked for AT&T, but about 20 years ago, adopted an infant from China. This little girl has grown into an amazing young woman. Kayla is a junior at Ohio State in the music program, the flute being her instrument of choice. It's too bad that my nephew, Daniel, didn't choose Ohio State for his engineering program. They chose him, but OSU didn't have saxophones in their marching band, which is uber important!  As of last week, Kayla wants to go to graduate school, and possibly Carnegie Mellon in Pittsburgh, which is less than three hours from our home in Chambersburg!
Ken's son, Richard, lives in California, flies for Jet Blue, and has been researching their genealogy for several years. Because Rich showed an interest, and I needed a paternal cousin to DNA test, I asked Ken, who complied. Then about a month ago, I found a different Praser match on 23andMe. We had to be related because there are so few Prasers. And we were. It was Ken's other son, Mike. And it was Mike's family that rounded out our group at dinner. Mike works for an architectural firm in Chicago, pulling permits and basically doing the legwork to get construction jobs ready to go. With my 25 years in construction, we, too, had a lot in common. As I did with his wife, Kim.
Yes, Kim Praser, not to be confused with my sister, Kim Praser Pahira—and I think they are about the same age! Mike's Kim Praser is a high school English teacher. And because of having worked in the school system as a Speech Pathologist, Kim and I also had stories to share. Kim is no stranger to Eastern European ancestors either, because her great-great grandparents immigrated from Poland. I see an awesome family vacation in their future, because Slovakia shares a northern border with Poland. It would also be an amazing experience for their two kids.
Mike and Kim's youngest, 10-year-old James, is into football, baseball (Go Cubbies!) and Tae Kwon Do. We watched a video of James breaking boards, shared stories of when he broke his arm, and commiserated about when Daniel broke his leg. Boys . . . . And finally, there is 13-year-old Rose, named after my aunt, Ken's mother. Rose also practices Tae Kwon Do (both kids are black belts with degrees!), and at 5'8" plays on her Junior High basketball team. It's good to see that the Praser girl height continues into the next generation! The night ended with a promise to get together for lunch (with Ken, Mike, and Kayla) before we left.
At lunch, I shared pictures of our trip to Slovakia and our grandmother's childhood home. Then we came up with a crazy idea . . . a "real" family reunion, possibly in 2020 to celebrate the 100th year anniversary of our grandparents' immigration to Chicago! Stay tuned for details!