As I prepare to leave for the Salt Lake Institute of Genealogy (SLIG), I'm also getting ready to spend three whirl-wind evenings at the Family History Library. According to my SLIG syllabus, it's "the largest genealogical library in the world." So most people would assume that I'll head straight to the Slovak resources. But not this time. Next week I'll concentrate on the US and Canadian ancestors. But why???
About a year ago, in preparation for our second visit to Slovakia, I contacted Peter Nagy of CentroConsult, a Slovak genealogist that I found through the Association of Professional Genealogists (APG). I hired Peter because I knew that he was familiar with resources in western Slovakia where my paternal grandparents immigrated from. What could Peter do that I couldn't? He knew the Slovak system, specifically:
The different repositories and what records they held
The forms that needed to be filled out to obtain the records
What was needed to prove my relationship to get the records – my passport, my birth certificate and my father's birth certificate
How to cite the various Slovak records
The language!
But the first thing that Peter did for me, was what I do for my clients—make me focus! I was only going to have a day to research there, so of course I wanted to know "everything" about the Supena and Pracser/Konas families (more about Pracser and Konas later). Luckily, Peter was patient and coached me through the Slovak genealogy process. He also began the research before our September 2016 trip. Because he knew where to look, he found and translated my great grandparents' marriage record, which verified known information and provided some new details. In Slovakia, you don't get copies of original records. All are derivative certificates taken from the original registers. But the one thing we could not locate was my grandmother's birth record. We always knew she was born in Nitra. Right……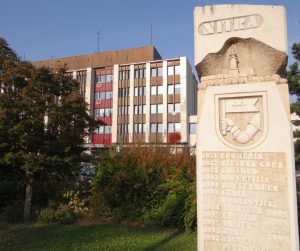 After we did all we could via e-mail, we set our meeting date and place—Nitra City Hall, in the town where my grandmother grew up. At City Hall, we got my great grandfather's death record and my grandparents' marriage record. We were given the certified transcript, but were also allowed to view the actual registry to see if any other information might be apparent. Unfortunately no copies or photographs of these registries are allowed. And again, the birth place of my grandmother was not listed.
But because the family was Roman Catholic, we decided to walk to the parish and see if there might be a church marriage record for my grandmother, giving me her birth place and the church they were married in. As luck would have it, the office was closed.
Our next stop was the archives for the Nitra region, similar to our county archives. There we found a 1919 census record on microfilm. Unfortunately the copier was not working, so I was allowed to photograph the screen on the reader. It gave information typical to a US census—address, family members and birth years, nationality, religion and literacy.
The next leg or our trip was to Sered, where my grandfather grew up. Two years ago, a mystery was discovered that to this day has not been solved—but Peter and I have not given up. My family has always known our surname to be Pracser. But in all the Slovak records, my grandfather's and great grandparents' surname is listed as Konas. The first time Pracser is noted is on the ship's manifest when the two couples immigrated. To try to get to the bottom of this mystery, Peter suggested that we check my grandfather's sister's birth record—she was the youngest—at the Sered City Hall. Again, the name was Konas. BUT, because Peter asked to look at the original registry, he turned the page and saw that Elizabeth had a twin brother that was stillborn. I would never have known this without the help of an experienced genealogist who knew the system and the language. Three towns and two repositories later, it was time to say good-bye to our new friend and guide…until I returned home!
Once at home, the question of my grandmother's birth place continued to nag at me, and I still hadn't contacted the Catholic Parish. I emailed Peter, and he said that if I wrote the letter, he would translate it for me. I wrote, he edited and translated and off it went in the postal mail. Within a week, I received an email from the pastor, asking me if I spoke Slovak. I said no, but copied Peter, who said he would translate for me. Almost immediately, I received another email with attached scans of the marriage registry—with my grandmother's birth place! It was not Nitra, but what looks to be basically a small town grown up around a train station, a town called Čiky, part of Palárikovo. Peter found her birth registry on FamilySearch, then ordered the record from the archives. Was the family traveling to Nitra when they had to make an impromptu stop to welcome my grandmother?? We may never know.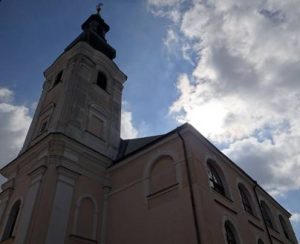 My final question—for this round—was what church did my grandparents get marry in? The pastor quickly responded to my email: St. Peter and Pavol Church, the church we visited on our first trip to the Nitra Castle, closest to their home.
Many thanks go to Peter Nagy. I know that I couldn't have been as efficient or thorough without him, and that he will continue to be there for me as I continue the quest into my Slovak ancestry and the Pracser/Konas mystery.