Tracking the Criminal in My Family Tree – Part II
By Michele R. Wade
Following is the conclusion to Michele's experiences of researching her genealogy at the Pennsylvania State Archives with the help of Aaron McWilliams, their Reference Archivist. As you may recall from Part I, "Surprisingly we were just getting to the good stuff…"
Aaron, reading over the sentencing records, noticed a note at the bottom that said, "Dec. 29, 1944 See opinion filed in #208 March Sess. 1939 for change in sentence."  He realized there was another sentencing record for Wayne. (Aaron obviously has had more experience with the criminal justice system than I.)  So he pulled the #208 sentencing file and found that Wayne was charged and convicted of "Escape".  What?!?  Furthermore, this charge was in March 1939, which would have been after Wayne had finished his minimum sentence in October 1937.  Now I was really confused – he escaped after leaving prison?  However, at the bottom of the Escape sentencing record there are notes referencing a Petition for Writ of Habeas Corpus filed by Wayne.  This led us to the Original Records files at the archives.
Up to this point to do research I just had to sign in to their entry book with name, date, and time, and I could use all the microfilmed records.  To use the Original Records (these are the original paper records) you must register at the archives.  This is just a one page registration form and you have to show a photo ID.  They go over the rules of handling the original files and making copies of them.  I was lucky as the original files for Wayne were a wealth of information about his criminal proceedings.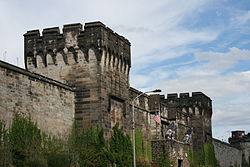 In the original file there was Wayne's Writ of Habeas Corpus petition, along with the warden's response and the court's verdict to the petition.  In September 1934, Wayne broke into a car dealership and stole a Ford sedan, plus automobile parts and tools.  He was caught and convicted of Larceny of motor vehicle, Larceny, and Felonious Entry and sentenced to 3 to 12 years at Eastern State Penitentiary.  Wayne served 3 years and 8 months and was released on parole June 1938.  His parole was for 8 years and 4 months.  In August 1938, just two months later, Wayne was involved in a hit and run accident in Dauphin County, Pennsylvania and taken to jail. This was the time period of the letter Wayne sent to try and get money for an attorney to defend him.  I guess he didn't get the money or the attorney as he was convicted of "Failure to Stop at the Scene of a Motor Accident and Render Assistance" and sentenced to 6 months and 7 days in Dauphin County Prison.  On March 22, 1939, Wayne walked away from the Dauphin County Prison.  He claimed he finished serving his sentence on March 15th.  The warden strongly disagreed that Wayne was a free man and charged him with Escape.  The long and short of it was that Wayne had served his time for the hit and run but because of that, his parole was revoked and he was not at liberty to leave the prison.  On March 29, 1939, Wayne was returned to Eastern State to finish serving his paroled time of 8 years and 4 months.  This was where he was when he sent the postcard to his uncle.
In October 1944, Wayne petitioned the court for two main points.  First he claimed, repeatedly, that he did not escape from prison because he had served his time for the hit and run and was a free man being wrongly held.  The second point he claimed in the petition was that he had been advised that his maximum sentence was incorrect and should have only been 10 years, not 12.  The judge ruled that Wayne did escape from prison but that the 1 to 2 year sentence for Escape is too long and must be reduced to 6 months and 7 days. Punishment for Escape can not be longer than the original sentence the inmate was serving.  Additionally Wayne was correct – the maximum sentence allowed then for Larceny of a motor vehicle and Felonious Entry was only 10 years.  So Wayne's sentence at Eastern State was reduced by two years.  However, when he was released from Eastern State he had to return to Dauphin County Prison to serve his time for his prison escape.
At the end of the day I can not believe the amount of information I found at the PA State Archives, largely with the excellent help of Aaron McWilliams.  If you are wondering what happened to Wayne after all this, I have to tell you, I can find no evidence that Wayne had any more problems with the law.  Wayne visited family in Chambersburg often and seemed to live a quiet life.  His obituary talked about his 17 years of employment at the Howard Johnson Restaurant at Lawns.  I hope you enjoyed my stroll down penitentiary lane.
Michele Wade is a graduate of the Chambersburg Area Senior High School and Virginia Polytechnic Institute & State University. She has been researching  her family's genealogy since 1997 and volunteers in the genealogy library at the Franklin County Historical Society. Michelle lives outside of Chambersburg near Ft. McCord with her husband Jimmy, and sons Gus and Jesse.