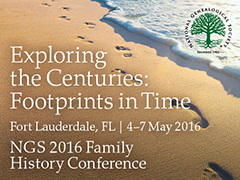 One week ago, I returned from my second National Genealogical Society Family History Conference in Fort Lauderdale, Florida. The first one I attended live was in 2014 in Richmond, Virginia.
What a difference a second conference makes!
So what did I learn?
Every level of genealogist attends this conference, from beginner to pioneer – and you can learn from all of them.
Every year you go, you will re-connect with people you met before, they'll introduce you to new people, and someday, you will become the one doing introducing!
Working the Association of Professional Genealogists booth – or any booth – is a great way to meet cool new people.
Networking is easy at luncheons, ProGen gatherings, or just sitting next to someone waiting for a lecture to begin.
Supportive spouses and partners who "aren't all that into genealogy" rock!
Legends in our field are approachable.
Citations don't have to be complex or intimidating to write.
Indirect evidence can be just as powerful as direct evidence.
I really DO know some of this stuff!
BCG (Board for Certification of Genealogists) certification is doable!
Next year's 2017 conference will be in North Carolina – driving distance from Franklin County, Pennsylvania. And I can't wait to re-connect with all my old and new friends.
Maybe I will be on the clock for certification by then?!?