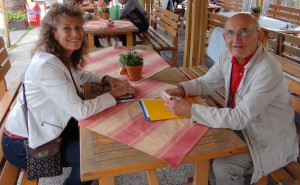 Finally, the good part . . . We arrived on a September Thursday morning and had the day to ourselves to explore Bratislava, the capital of Slovakia. Friday morning was a scheduled tour of the city, then a tour of Devin Castle, where Tom and I would meet Milan Hrnčiřík by the Iron Curtain Memorial at 1:00 pm, which is exactly where he was. I had no photographs of him, but I knew him the minute I saw him – and we hugged. Our first photograph together was taken while we were waiting for Peter, Milan's son, to drive us to lunch.
To recap – because I know this can get confusing – there were four Supena children born 1899-1909: Marie (my grandmother), Jolanka, Stefan and Helena. Marie and Stefan immigrated to the United States, but Jolanka and Helena stayed in Slovakia, and I would soon meet their children and grandchildren.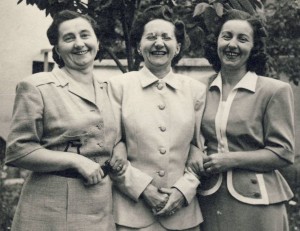 That Friday, I learned about the Hrnčiřík family – how Milan, his two brothers, and mother, survived World War II. His father was killed by the Nazis in the famous Slovak Uprising of 1944, and was never seen again. Milan is 87, with college degrees. He traveled the world, even coming to Chicago in the 1950s to visit my grandmother. Milan and his wife, Dorota, have two sons who run the restaurant at Devin Castle, and a daughter who was voted " 2014 Most Loved Teacher in Slovakia." Needless to say, he is very proud of his family. These three children are my counterparts – grandchildren of Helena (Supena) Hrnčiříková, my grandmother's sister. After lunch, we drove to Milan's home, former communist housing, which looks like a typical American two-story townhouse with a lush back yard and beautiful garden. We spent the afternoon with Dorota and Vlasta, his niece, talking and sharing photographs. Luckily, I discovered that most Slovaks speak English, especially the younger generation.
The next day, we drove to Nitra, our family's ancestral town. Our first stop was the cemetery where my great grandparents are buried – the place that I first found Milan as the contact for the family plot. What I didn't know was that just three days before our arrival, Milan had their headstone exchanged for a "better one," just because we were coming. There were also fresh flowers on the grave, placed by Gitka, Milan's brother, Ivan's widow – again, just because of us. I later found out that Milan was also in constant contact with our tour agency and checked out our hotels in Bratislava and Nitra. He wanted everything to be perfect.
After the cemetery, we walked to the church where Milan's parents (and possibly my grandparents) were married, then to the home where Milan lived with his mother and brothers after the war. Gitka Hrnčiříková now lives there with her daughter, Jana. They welcomed me as if I was a long lost daughter. We were surprised to find that Dušan, Milan's middle brother, also drove to Nitra to meet us. He had done research on our family and later emailed me a copy of his manuscript. Dušan and his daughter, Vlasta – another granddaughter I met – are now my friends on Facebook! I had just met most of Helena Hrnčiříková's children and grandchildren!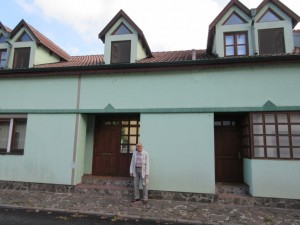 On Sunday, Milan came to meet us to go to my grandmother's childhood home. But there was another surprise. Staying at the hotel for her husband's 60th birthday party, was another granddaughter – Gabriela (Kutalíková) Meravá, granddaughter of Jolanka. "Your grandma-ma's must be working up there," said Milan, pointing to the heavens, because this was definitely not a planned meeting! We then walked to the former Supena home and shop on Podzámska Street where the Supena sisters grew up, and the Town Palace where my great grandfather worked until he died in 1918 of the Spanish Flu. The whole time, we took the photos in some of the same places that I had pictures of my grandmother.
On Monday, we said goodbye to Milan as we continued our trip to the High Tatra Mountains. But we met him four days later to have one final lunch – soup included, of course! He even came again at 7:00 am on Saturday morning to see us off. So what did I learn from our trip? First, "Supena" is not pronounced Soo-pee´-nə, as we always thought. It's pronounced Shoo´-pay-nə. Second, my new relatives treated me as if they always knew me. My Slovak family was so welcoming that I couldn't wait to share our adventure with my American one. Finally, I hope that everyone has the opportunity to find relatives that they don't yet know – whether they are down the street or across the pond.
Tom and I leave tomorrow for a reunion with our Slovak family.