The first step in trying to locate my Slovak family, was to hire someone in Europe to help with my search. In December 2013, I contacted a genealogist who I hoped would find more specific records on my grandparents and their families. This would also help to determine exactly where in Slovakia my husband, Tom, and I would travel in September 2014. I belonged to the Czechoslovak Genealogical Society International, and one of the speakers at a past conference was a genealogist and tour guide from Slovakia. I looked Michal up on the internet, and immediately contacted him. He said that he lived in eastern Slovakia and my family was from the west, but he would see what he could do to locate records for me. I paid his fee and he went to work. Unfortunately, the records that he found were already accessible to me on FamilySearch, and he didn't cite his sources for the records he did send. I also realized that he wasn't very careful, and identified several incorrect family members that I had to correct later. But what he did do, was translate many of the baptism records that he found. One of the notes on my grandfather's baptism record said that he married Maria Supena in Nitra on 12 October 1919. Unfortunately, instead of Edmund Pracser (the name he went by in America), my grandfather's name was written as Edmund KONAS. Where the heck did that name come from?!?!? The marriage date was correct, but the name Konas is not even close to Pracser. There will obviously be more research to do in the future!
So I had some more information, but I still didn't have a family contact in Slovakia. On Michal's website, it said that he could find families. Oh Boy. Awesome. He told me to send all the information that I had. Huh. I had no confirmed names, addresses, phone numbers, or emails. So what did I have? The only clue that I could give him was the information that I found on the internet on the Slovak cemetery site touting itself as  the "official portal of Slovakian cemeteries". There was no photograph of the tombstone, like on Find A Grave, the website that is popular in the United States. However, this site listed the "present lessee" of the cemetery plot in Nitra where my great grandparents were buried. The name was Milan Hrnčiřík. I didn't know this person, but it was a name that sounded familiar – his last name was the same as my grandmother's sister's married surname – a cousin? This was the name I gave Michal . . . and crossed my fingers.
In the meantime, I needed to prepare for the actual trip. Where would we go, and would we go alone or with a guide? We chose the guide. Michal ran tours, but only in eastern Slovakia, of course. So he gave me the name and contact information for Peter Blazicek of Best Slovakia Tours. Peter worked with us to customize the entire trip, and it was well worth the money to have our own personal guide who knew the country and spoke the language. By June, everything was finalized and we were ready to go. All we had to do was find someone to visit.
It was in July that Michal found my "someone". Milan Hrnčiřík lived in Bratislava, the capital of Slovakia, and the first stop on our trip. He told me that Milan spoke English, had access to his wife's email, and was 87. I'd better hurry! He was my father's first cousin, my grandmother's nephew. That's all I knew, but that was enough. I immediately emailed him and introduced myself. Following is a part of the email that he sent back in August:
Dear Pam, Hi Tom
You will visit ruins of very old guardian castle built on a high massive rock [on Friday]. Exactly here, under the high rock, on the bank of the huge Danube River is the ideal place for our historical meeting! I will be sitting on one of the four benches installed there next to the two iron curtain memorials. You really cannot miss me and the place!! Following my calculation you should reach the place between 1:00 – 1:30 PM.
At the chosen place at the foreseen time I hope we will finally have the opportunity – with the Tom´s permission – for the first time to hug each other. At this very moment you are getting to become my guests and me your host! We will celebrate the above event in the nearby standing restaurant. After ending our lunches we will move then to my family house and spend a nice afternoon drinking coffee, eating cake and  talking.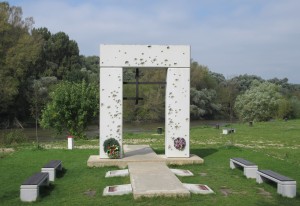 What could be better than family that didn't know you, but were excited to meet you? All we had to do now was wait to travel to a country that no one I know had ever visited. We were ready for our adventure in September.