In less than two months, I will be collaborating with several people who share an interest and expertise in Franklin County, Pennsylvania genealogy. We are joining forces to put together the first Franklin County Genealogy Workshop (and Retreat). We've added "Retreat" because of the beautiful home-base for this workshop – the amazing Mercersburg Inn in Mercersburg, Pennsylvania. Jim and Lisa McCoy, owners of this magnificent bed and breakfast have given us special rates for this event and will serve up breakfast and dinner for two days!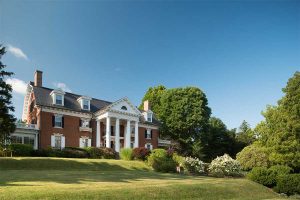 Besides meeting others researching ancestors in Franklin County, we will answer your questions such as:
When was Franklin County formed?
What if my ancestors were living in Franklin County before it was a County?
Why did people move here and why did they leave?
What original records are available and where are they?
What are Orphans' Court Records and why should I look for them?
How do I find my ancestors' cemeteries?
What research options are available to me after I return home?
Check out the details:
The Schedule:
Wednesday afternoon, June 21:
1:00pm Check-in
Interactive Presentations:

1:30 The Genealogical History of Franklin County – Janet Pollard, Franklin County Visitors Bureau
2:30 Original Records, In and Around Franklin County – Justin McHenry, Franklin County Archives
3:30 A Guide to Franklin County Repositories – Pam Anderson, Anderson CoGen

6:00pm Dinner
Thursday, June 22:
8:00am Breakfast

9:00am-4:00pm Research and lunch on your own

6:00pm Dinner
Friday morning, June 23:
8:00 Breakfast
10:00 Checkout (or choose to add another day)
Continuing researching your ancestors
Schedule individualized consultations with Pam Anderson on Wednesday, Thursday and Friday.
Accommodations:
405 S. Main Street
Mercersburg, PA  17236
717-329-5231
Cost:    Wednesday & Thursday – One-person Registration with Dinners – $355 per room
Add on Friday Night Stay for $110
*Additional person $110 – shared room occupancy
Contact me at (717) 597-1345 or [email protected] if you have any questions.
We hope you can join us!!