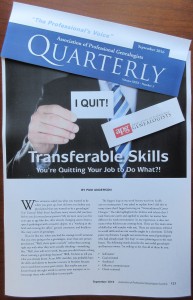 What a great present I found waiting for me after a ten-day vacation to Slovakia. It was my first article for the Association of Professional Genealogists (APG) – and it was chosen as the lead article for the APG Quarterly September 2016 issue. The APG  is an "international organization dedicated to supporting those engaged in the business of genealogy through advocacy, collaboration, education, and the promotion of high ethical standards." Many of my clients have located me through this website. And I too, found an amazing genealogist, Peter Nagy who I worked with on my trip to Nitra and Sered, Slovakia.
This article is on Transferable Skills – yes something I should know a bit about. Speech Pathology to Construction to Genealogy means I've had to answer the same question over and over: How can you do that?? I just wrote about what everyone knows – no matter what your job or career, it's all about being:
A self-starter
Goal-oriented
Analytical
An effective communicator
Client centered
Like my past articles, the editor and APG Publications Advisory Committee worked with me to make this submission its professional best, and I thank this wonderful editing team for their help and guidance.