This past spring, Lois Kleinhenn Lanier asked me to help proof and edit her new book, Descendants of Valentine Bohn (1793-1854) and His Wives Barbara Strickler (1796-1837) & Elizabeth Bastian Bostwick (1809-1851). I've proofread many reports, articles, and other written narratives, but this is the first time that I have been asked to proof an entire book. And I dove in headfirst to this amazing opportunity!
Lois and I partnered for about five months to bring this work to her publisher. My role was to make editorial suggestions, but credit for the final product goes to the author. Lois worked tirelessly for many years, researching her family and putting her findings in writing—in 384 pages of writing to be exact. Her Bohn family history begins in Pennsylvania, but quickly moves to many states west of the Mississippi. She has carefully researched eight generations of her family, documented by almost 3600 foot notes, using a variety of original sources, and including an extensive index of names.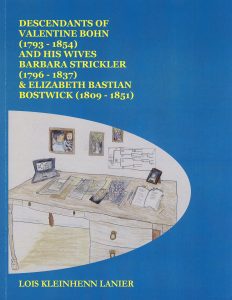 Lois Lanier handed me an unexpected educational opportunity. She also wrote a kind recommendation: "Pam was editor for my book, Descendants of Valentine Bohn . . . . She provided invaluable assistance on appropriate genealogical formatting. She provided thorough feedback and constructive criticism. She was accessible and always met deadlines. I look forward to working with her again."
The feeling is mutual, Lois!