Before we get to the good part – and Milan – I want to set a little background about the Slovak Republic and its people. Growing up, I remember my grandmother telling me she was from Austria, Hungary, Austria-Hungary or Czechoslovakia. In fact she was from all of those places. Luckily she lived in the same city, Nitra, until she moved to the United States – and that city never changed names. From 1867 until 1918, Slovakia was ruled by the Austro-Hungarian Empire, specifically Hungary. After World War I (1918), Czechoslovakia was formed from countries that now make up the Czech Republic and the Slovak Republic. After World War II until 1989, Czechoslovakia was a communist country. In 1993, the people of Czechoslovakia voted to separate and become their own countries. No wonder my brothers and sisters disagreed about where our grandparents came from!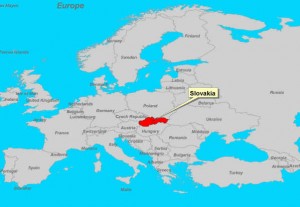 Located in eastern Europe, the Slovak Republic (19,000 square miles) is less than half the size of Pennsylvania, but both the land and climate are similar. Its eight regions are like our counties. The largest city and capital is Bratislava, slightly larger than Pittsburgh. Like Pennsylvania, the country can be driven from east to west in half a day, but gas costs $7.00/gallon! Slovakia has over 500 caves and is fourth in the world for its percentage of forests. The people care so much about their wildlife, that they built overpasses for the deer to migrate across major highways. There are over 5,000 natural springs, and only 500 are used for spas or drinking water. The High Tatra Mountains promote hiking in the summer and skiing in the winter. Slovakia also boasts 500 castles, one of which my grandmother grew up near on Podzámska Street, which means, "under the castle."
The population of Slovakia is approximately 5.4 million, similar to that of Minnesota. 70-80% of the population are Roman Catholic, like my Grandmother's family. However, I don't remember her attending church, and my father converted to the Episcopal religion when my parents married. Many immigrants moved to Pennsylvania to work in the mines, jobs that they held in their native country. However, my grandparents moved to Chicago, probably because they already had relatives living there. They were trained as a tailor and seamstress, and continued working in that industry when they arrived in 1920. It's difficult to imagine moving from a beautiful country of mountains and forests to a large city of skyscrapers and traffic.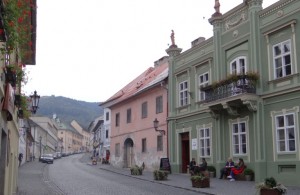 I thought I was familiar with Slovak food, because I especially liked my grandmother's chicken noodle soup, made with lots of thin egg noodles and whole pieces of chicken, and especially her baked walnut roll. But the best were her plum dumplings – plums wrapped in potato dough, boiled, then rolled in buttered bread crumbs and sugar!! My sisters still make the dumplings and my cousin, Eric (so I'm told), is the king of walnut roll. In Slovakia, Tom and I learned that chicken is still popular, as is pork and anything made with noodles and cheese. But most important, is that every lunch begins with soup. Beer and wine are also popular, as many micro-breweries and family wineries have sprung up throughout the country. Unfortunately, Slovakia does not export their wine – they say there isn't enough to export because they drink it all! But we were lucky enough to be in Bratislava for Beer Fest. Think of Chambers Fest Old Market Days, but with beer vendor tents. And then there is their traditional drink – Borovička – a juniper flavored brandy. We had a few of those, too….
Next time . . . the final chapter, or should I say, just the beginning of a whole new family.